A concrete sink countertop for a commercial bathroom
Maison Lavande is known for the quality and beauty of its products, which are made from lavender harvested in its fields. For this team project with our clients, we wanted to highlight the beauty of nature that mesmerizes with its simplicity and complexity. We opted for a concrete sink countertop in a color that goes well with varnished wood and, above all, a texture that reveals the natural movement of the material. Uniqueness thus created captures our attention. The furniture reflects the personality of the company. To make this project a success, we took the time to sand the concrete, polish it in several stages and let it ripen before putting the sealer on. Thus, the cement molecules have had time to solidify to unveil a solid and durable end product with a warm design emerges.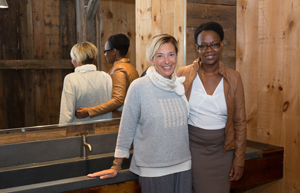 What a good idea to have entrusted the realization of our countertop concrete sink to Cygne Béton ! This long washbasin has been talked about all summer : it now proudly throne in the public bathroom of women, in the barn of our site agrotouristique. He adds this little plus that shows that we are thinking of every detail to offer the public a unique experience in beauty and exclusivity.
– Nancie Ferron, co-owner